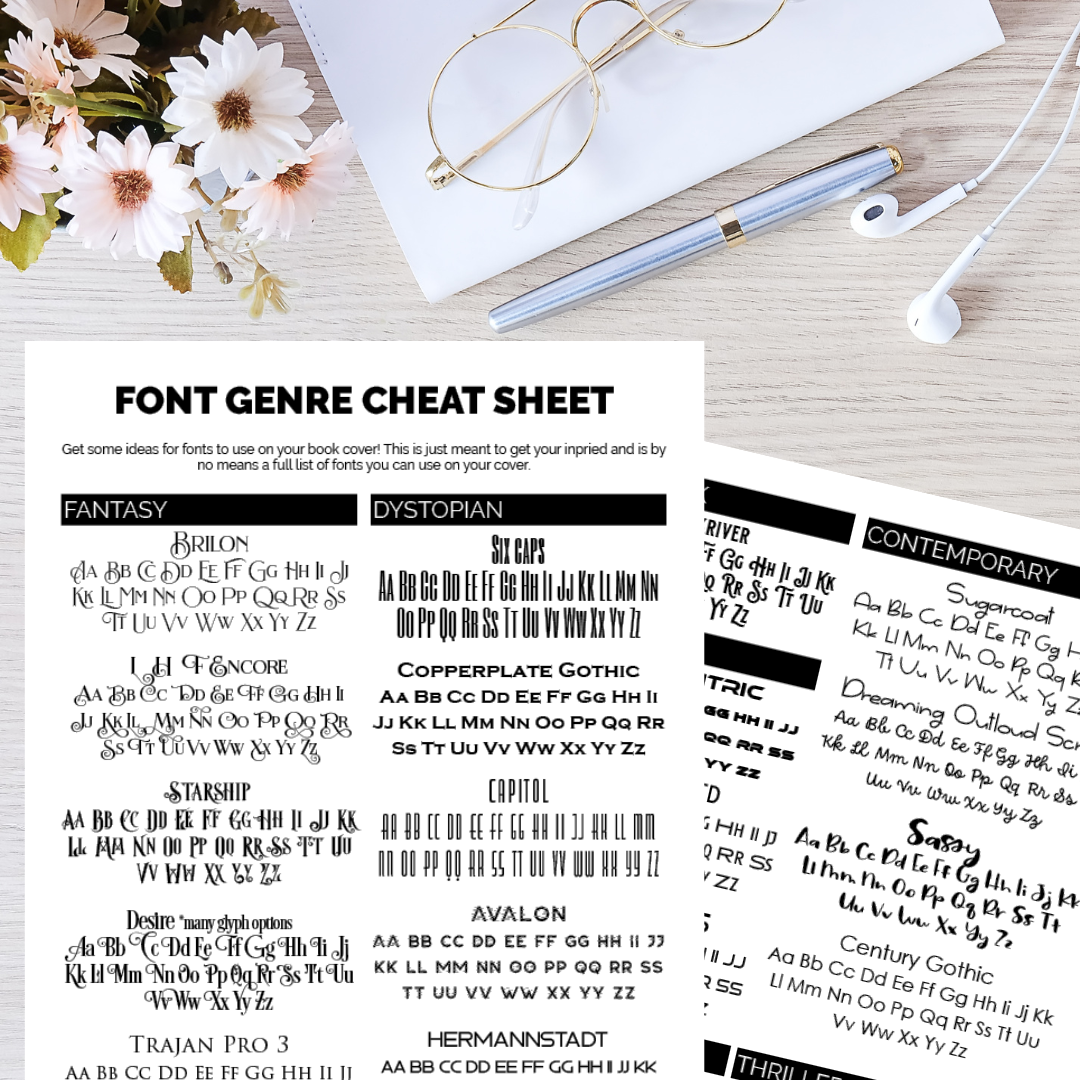 Font Genre Cheatsheet
Get access to my font cheatsheets where I list out some of my favorite fonts and what genre's they can be used for when you're designing book covers.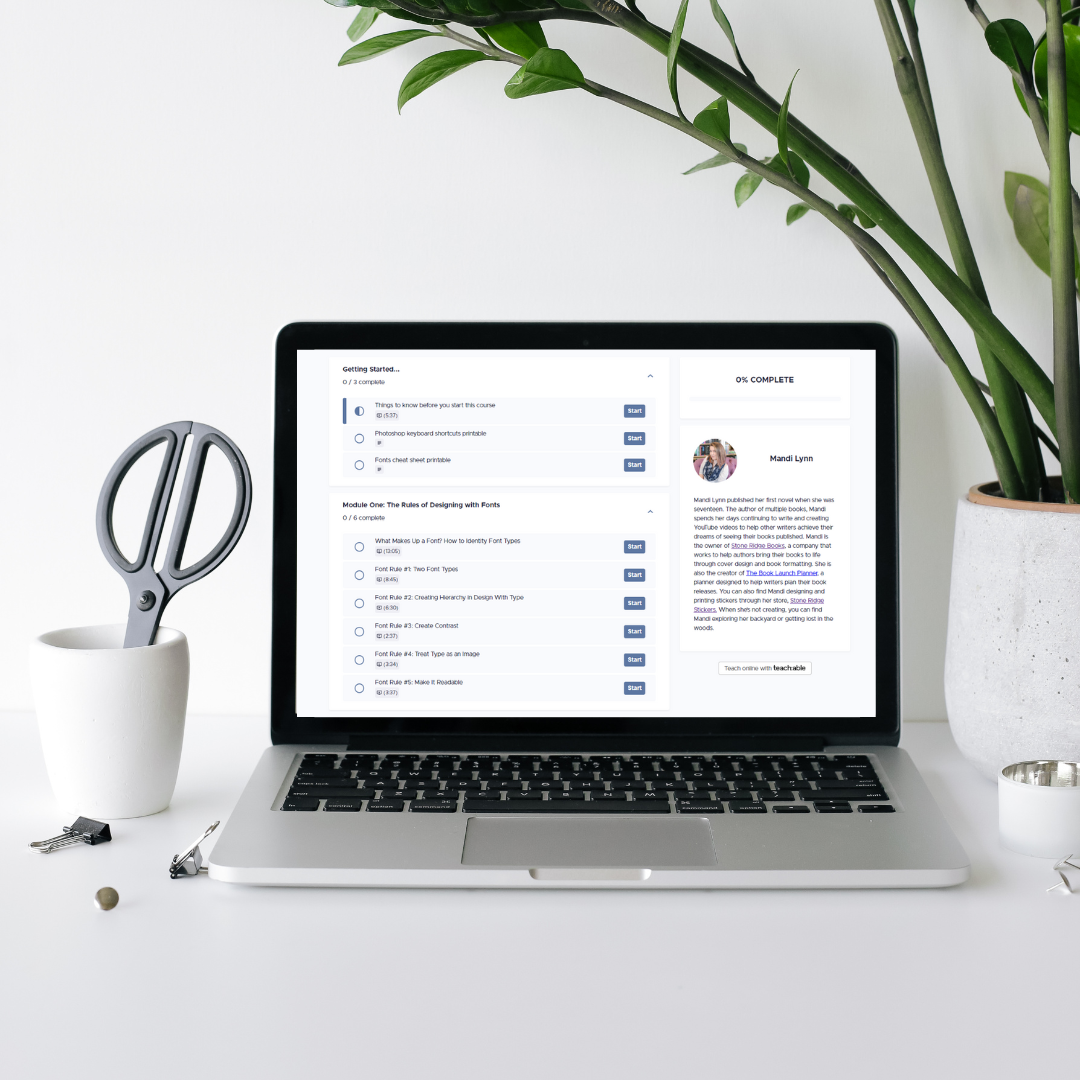 Video Lessons
Watch extensive video lessons to learn the theory behind good typography and how to manipulate type in Photoshop with step-by-step tutorials.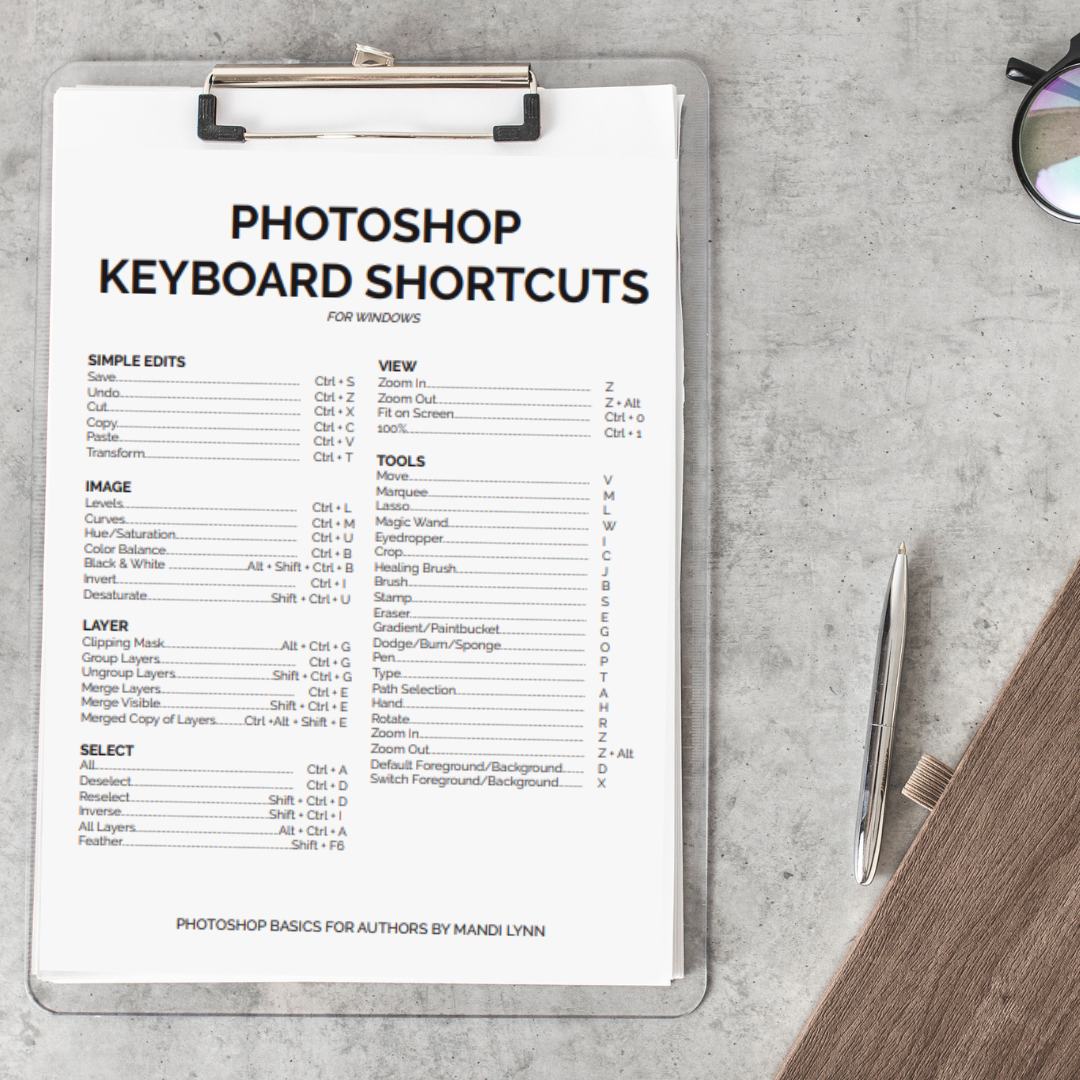 Keyboard Shortcuts Printable
Photoshop offers countless tools, and the more you use Photoshop, the more you'll love keyboard shortcuts! With a printable PDF (for MAC and PC) you'll have reminders to the most common keyboard shortcuts at your fingertips.

Learn the Entire Process
In the walk-through video lessons I take you step-by-step through the process of adding typography to a book cover, including designing an ebook, paperback, hardcover case laminate, and hardcover jacket. I will also take you through the process of exporting the document so it's ready to print.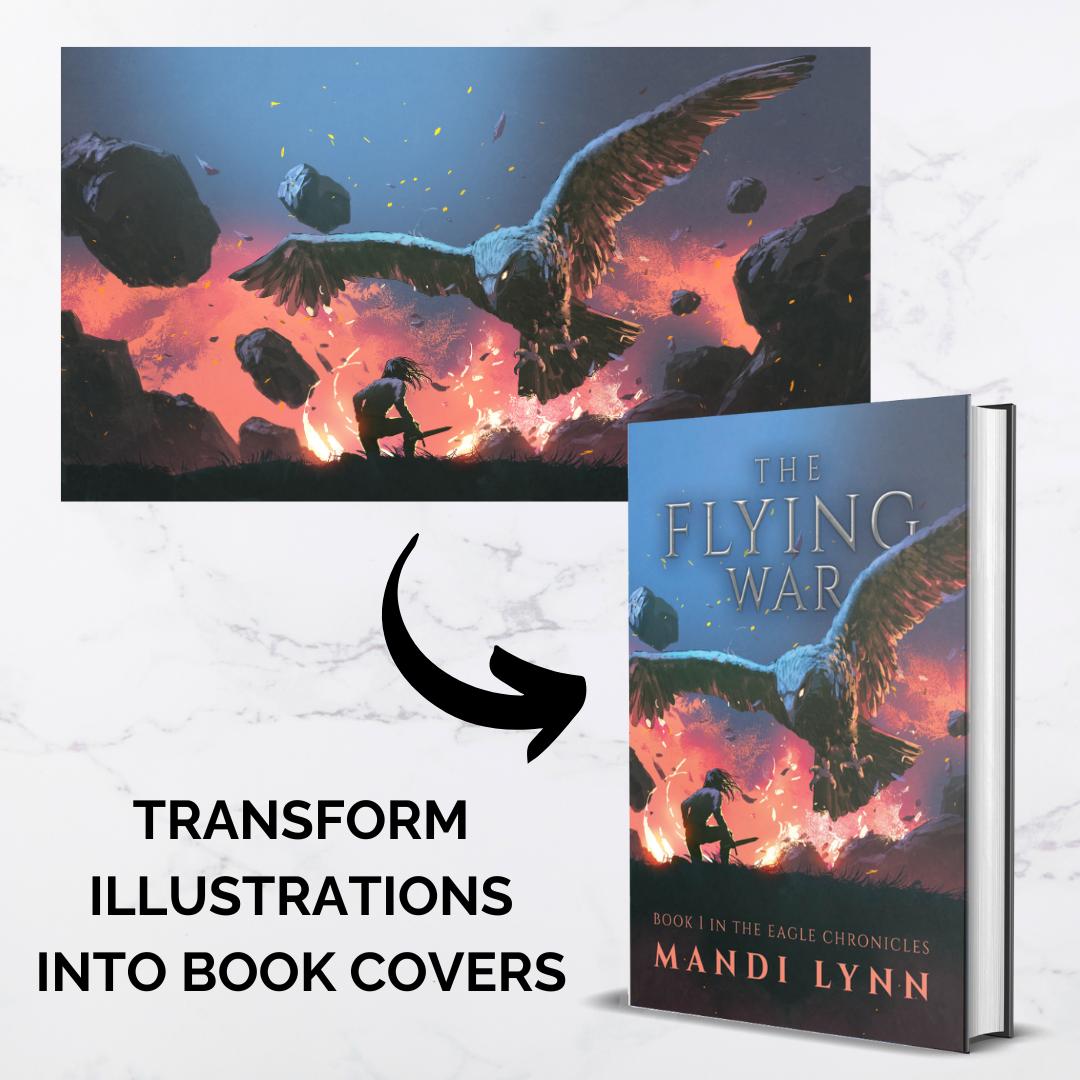 Purchase the Book Cover Design Course Bundle

Want to do more than just learn typography? Purchase the entire Book Cover Design Course Bundle so you can learn everything you need to know to design your own book cover from start to finish:
1- Photoshop Basics for Authors: Beginner - Tutorials on Photoshop
2- Typography in Book Cover Design: Intermediate - Adding Text to Book Covers
3- Designing Book Covers in Photoshop: Advanced - Photomanipulation Book Cover Tutorials
The bundle offers a discount that's impossible to resist!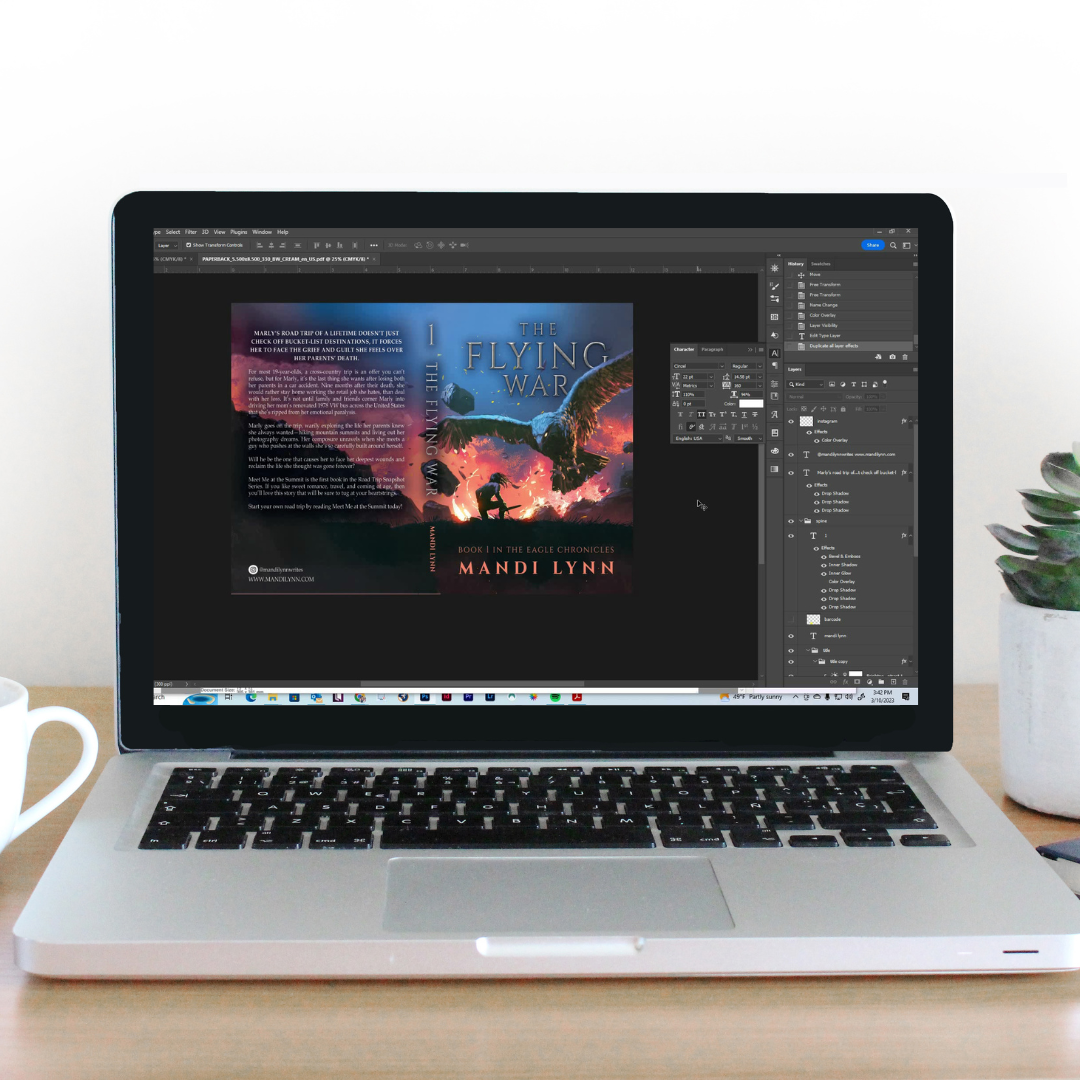 This course is designed for those who are familiar with Photoshop but want to know the technical and creative side of professionally adding typography to your book cover. This is especially useful when you as an author have hired an illustrator to create a custom artwork for your cover, but you still need to have the typography added and the book formatted for print. This course covers each step of the process in order to turn your custom illustration into a finalized cover.

This course is also ideal for those interested in the entire cover design process, as this course is a stepping stone to my Designing Book Covers in Photoshop course where I dive even deeper into teaching the photomanipulation skills needed to design book covers from scratch.

If you don't have experience with Photoshop, I highly suggest you take my Photoshop Basics for Authors course before jumping into this course, as the content is meant for those are are already familiar with Photoshop. I highly recommend checking out my Book Cover Design Course Bundle to get a discount when purchasing all three courses.
All lessons are taught using Adobe Photoshop Creative Cloud.
Frequently Asked Questions


When does the course start and finish?
The course starts now and never ends! It is a completely self-paced online course - you decide when you start and when you finish.
How long do I have access to the course?
How does lifetime access sound? After enrolling, you have unlimited access to this course for as long as you like - across any and all devices you own. You'll also have access to any updates I make to the course without any additional charge to you!
Do I need experience in Photoshop to take this course?
Yes. This course is recommended to those who are already familiar with Photoshop. If you aren't familiar with Photoshop, I recommend taking Photoshop Basics for Authors or getting my Book Cover Design Course Bundle.
Will this course teach me how to create a book cover from start to finish?
This course teaches you how to design a cover from start to finish, assuming you already have the image needed for your cover. The focus of this course is typography: adding the text to your book cover and exporting it for print. If you don't have an image or illustration for your cover and want to learn how to create an image, I recommend taking my Designing Book Covers in Photoshop course. You can also check out the Book Cover Design Course Bundle for a discount.
Can you give me feedback on the book covers I design using this course?
No. The only way to get feedback on your designs is if you join my Designing Book Covers in Photoshop course. This course will allow you to join the student-only Facebook group for this course. Once a week I post a thread where students can get feedback on their covers. You can also get feedback at any time from other students in the Facebook group.
Can I purchase this course now, and upgrade Book Cover Design Course Bundle later to get the discount?
One of the benefits of getting the Book Cover Design Course Bundle is that you get $50 off. The only way to get this discount is to purchase the bundle right away. If you purchase this course, then decide to purchase the other two courses in the bundle later, there's no way for me to offer you the discount.
Want to learn more?
Become a DIY author powerhouse! Learn how to format your book for print and ebook with my Adobe InDesign couse.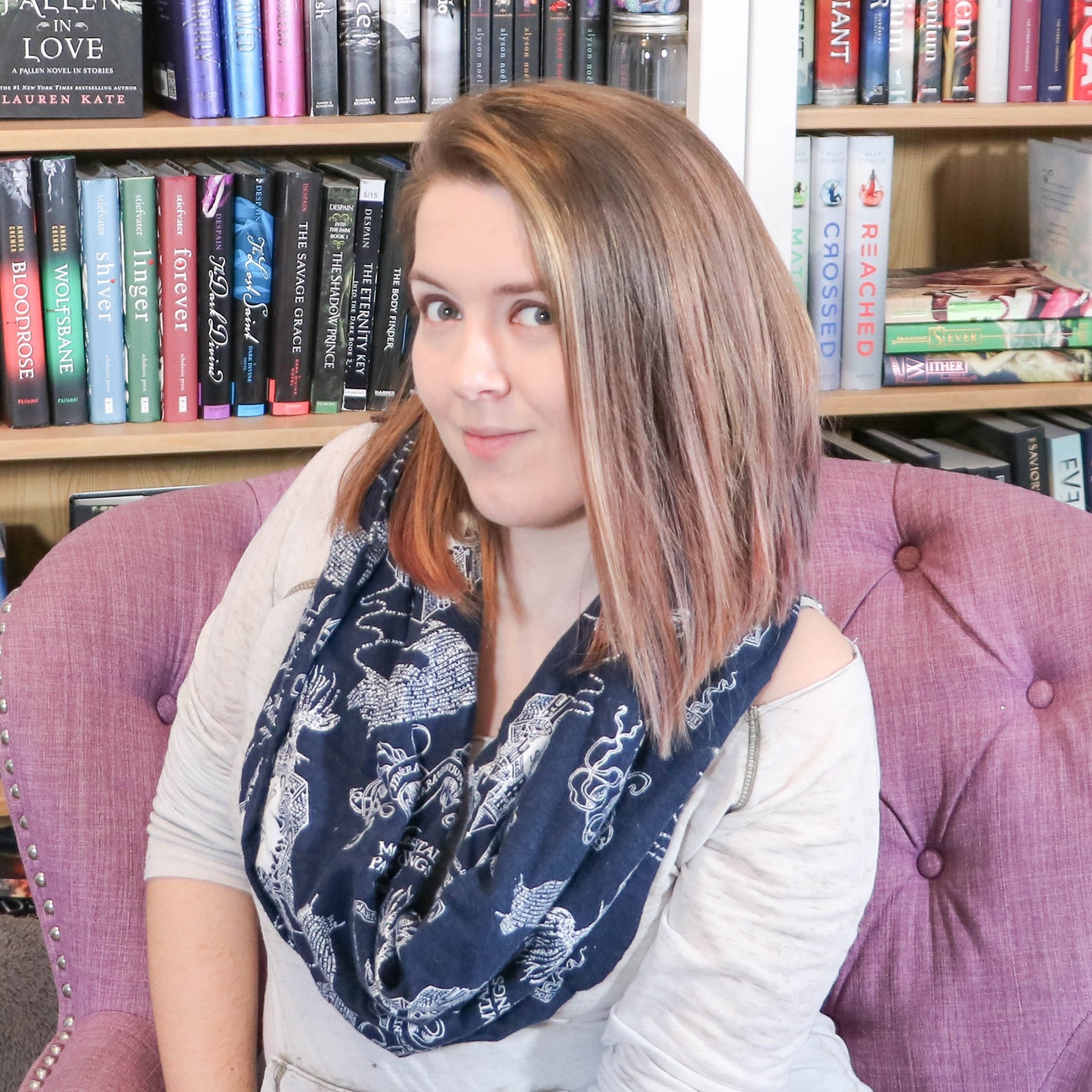 Meet Your Instructor

Mandi Lynn published her first novel when she was seventeen. The author of multiple books, Mandi spends her days continuing to write and creating YouTube videos to help other writers achieve their dreams of seeing their books published. Mandi is the owner of Stone Ridge Books, a company that works to help authors bring their books to life through cover design and book formatting. She is also the creator of The Book Launch Planner Series, a collection of planners designed to help authors write and release their books. When she's not creating, you can find Mandi exploring her backyard or getting lost in the woods.